Concur that Indian and Ethnic wear always influence a lady to look stunning and adorable. And when we are talking about wedding season then nothing can be as special as a traditional and ethnic outfit but repeating same designs can bore you. So, we have brought to you the latest and flawless couple of ethnic wears slants with a goal to make you look the center of attraction on every party and every occasion.
So be ready to stock your wardrobe with exquisite borders, spectacular sarees and trendy sleeved blouses having western Tadka in Desi style.
Create your own style, let it be unique for yourself and identifiable for others because Fashion is what you buy but the style is what you do with it.
Ruffle Long Skirt with an Ankle Length Cape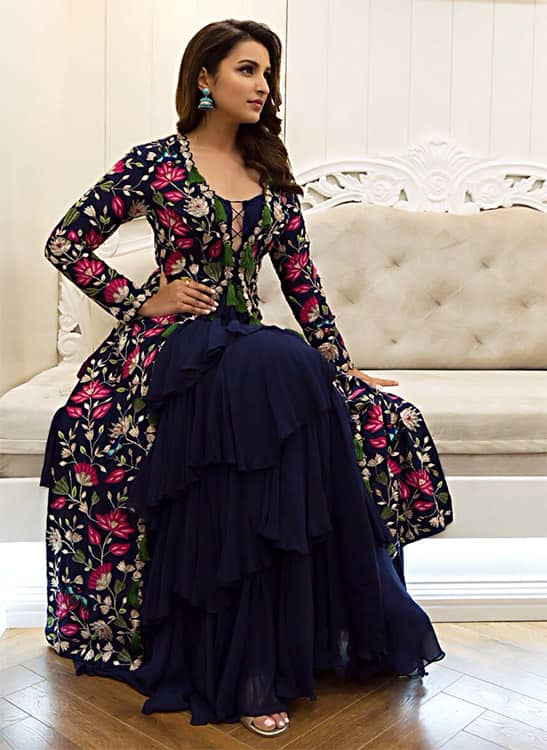 Ruffle tops have already seduced the heart of Indian Women's and now Ruffle Lehenga is ready to captivate you. Ruffled lehenga paired with an ankle-length cape with a slit or even a plain white shirt will give you a gorgeous look, a desi pattern in a videsi style. So, what are you waiting for? call your tailor master and get it stich now.
Glamorous Fringe Pattern
No doubt, that Indian Industry has overwhelmed the Fringe pattern in Indian Style, honestly giving a glamorous look. You must have worn the tassel earring and tassels shoes plenty of times, now it's time to add Fringe Indian Wear to your wardrobe. Your glamorous flavor will definitely steal the heart of someone.
Sensational Extra Sleeves Capes
This sensational floor length capes came in trend with the Cannes festival in May 2017 wore by Bollywood Diva Sonam Kapoor and now this crazy pattern making the Indian Ladies crazy for it. This flawless outfit featured with enormous and dramatic sleeves enlivened from 70's ideal for the ladies want to look bold and astonishing.
Fusion of Golden embellish Lehenga with a shirt
You must have remembered Sonali Bendre hypnotizing everyone with her adorable look pairing a navy blue having long sleeves shirt with a golden printed lehenga. This enchanting style has already captivated the heart of many ladies and going on the list of top ethnic trends of 2018. So, its time for you to try this stunning look.
Cape with a Multi-colored Skirt
Once again capes are knocking the door of Indian Fashion Industry after a decade. Even not just Indian Fashion Industry it is trapping the entire world through its breathtaking look. Starting from our bollywide pride Karishma Kapoor to the television industry everyone is making experiment with capes such as capes as a blouse with saree, either pairing with palazzos, or with lehenga, as well as it completes the western outfits like Jeans and one of the best pair we have seen is cape with multi-colored skirt which contributes your charming and bold look.
Pom – Pom Fever
Pom – pom trend has inspired from the tassels. You can even treat them as same family members. Tassels were known to add a charming look while the Pom Pom is contributing towards your hot look. A simple cape pairing with a long skirt equipped with pom-poms will truly reflect your attitude and your personality.
Floor Length Slit Kurtas
You must have heard that Long slit kurtas are in trend but have you ever tried it, If not, then don't be too late. This incredible pattern will give you a decent and adorable look perfect for casual parties as well as offices. Be a pretty woman not like ever before. This Indo western dress pattern has allured the heart of millions of Indian ladies.
Saree with a Mermaid Style Blouse
Sarees can never be out of fashion, it is one of our best in the ethnic fashion world. This is the first choice of Indian woman when one wants to tempts the heart of her love. As well as it always completes you whether it is an office party or a festive evening or various wedding occasions and this year we have brought to you another level of this glory. The mermaid style drape showing off your curves adorned by a net blouse paired with paisley embroidery on a royal blue saree will give you an elegant and ideal look at the Ethnic styling school.
Embellish your look with a deep black nail paint and long Jhumkas which will complete your striking look.
Glamorous White Tiger Print Saree
When we are talking about stunning ethnic style then the first name came to our mind is Shilpa Shetty which is an icon in the Bollywood Industry trapped the Indian Population with her glamorous silhouettes. Shilpa Shetty has opted a fascinating white saree pairing with sleeveless blouse styling it with large golden bangles and white round earrings and a stunning ponytail.
Golden Anarkali
Fashion says "me too" and style says "only me" keeping this thought in mind our last and extraordinary design is following the Indian Style worn by ever charming Madhuri Dixit Nene, a Golden Anarkali suit dress pairing it with golden Jhumkas and adorned her look with a dark red lipstick. So, explore the feeling of the princess by wearing this flawless Anarkali suit.